About CORD
CORD, a venture of Nomology Technology Private Limited is built by a team that has immense experience in law and technology with a deep understanding of the problems plaguing the existing systems. CORD offers dispute resolution and associated services in a modular fashion that allows the parties to avail them independently. It not only saves costs but also ensures that the stakeholders of a dispute get their varied dispute resolution needs addressed in one place. We ensure that every step of the resolution process is standardized so that the parties and the Dispute Resolution Professionals focus on the real controversy rather than drafting standardized sections. Wherever necessary, CORD provides case managers to assist the neutrals and the parties to conduct hearings and manage cases effectively. CORD leverages technology to make dispute resolution fair, fast and accessible.
CORD is an institution that facilitates fair, fast and accessible dispute resolution through a secure online platform, a bouquet of modular services and a panel of expert neutrals.
The Team
Rich experience in Alternative Dispute Resolution and building user-friendly technology platforms at scale.
Tech Support
Hearings moderated by technical expert so that participants focus only on the matter at hand.
Tailor made platform
Do not miss the experience of physical hearings with the easy to use platform.
Case Manager Support
24×7 support for each case available on phone
Modular Services
Meet all your dispute resolution needs under one roof. Choose your services and pay on usage.
Security and Confidentiality
The team that has built highly secure banking systems, has built CORD.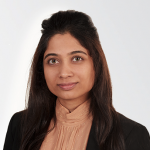 Supritha Suresh
Three Crowns LLP, London